Axes
&nbsp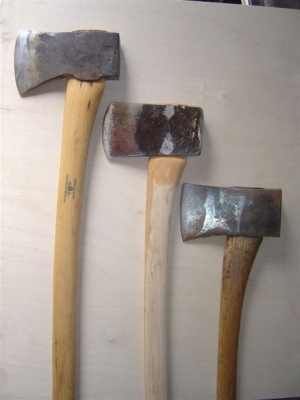 We almost always have a few old axes on hand. Usually these are older Snow & Neally heads, but we have others occasionally. Call for availability, condition, and pricing.
One of the most common problems with axes is improper grinding and shaping. Your axe can be sharp as a razor and still be completely frustrating to use because it's not correctly shaped for the job you are trying to do with it. A V-shaped grind is for limbing and chopping. A more rounded or blunt grind is for splitting. I use these descriptions loosely. A V-grind will stick when used for splitting, and a blunt grind will glance off when used for limbing or chopping.
This (right) is a pattern to make an axe gauge. This gauge represents the best shape for an all around general purpose axe. I made mine out of industrial plastic but any light gauge metal will work.
If you use a grinder or disc sander to reshape your axe, be sure to work bare handed. When the metal becomes warm to the touch, it's time to cool it. If the metal turns blue, you overheated it and drew out the temper. If this happens you can grind past it, or if it's a small area, leave it and sharpen past it over time.
Axes
&nbsp
Give us a shout for pricing and availability. Inventory changes regularly
---
Handmade Leather Axe Sheaths
$35.00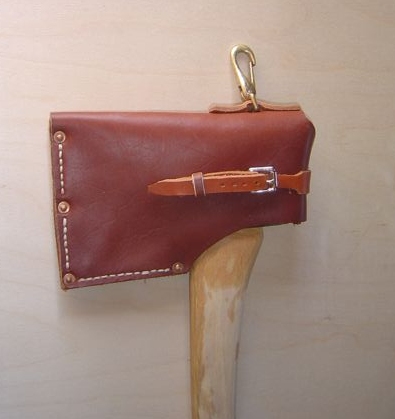 Made from the same top grade leather as our tumplines, hand stitched with nylon thread, and reinforced with hand pounded solid copper rivets. Snap clip for easy attaching and dettaching from your canoe.
---