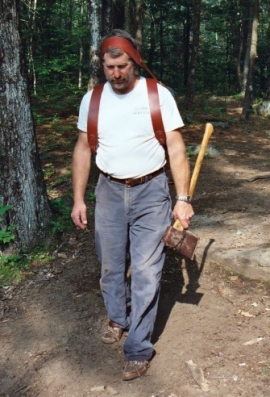 Don Merchant was born and raised in Maine, and is a Mainer through and through. Don was born in Portland, but his parents moved to a, long empty, farm in Hollis, a small, rural town, when he was four. The first thing his mom did was point to the fields and woods and said go anywhere you want, but pointing at the road said, don't play there, and don't cross that. The stage was set.
Don received his first knife when he was five, his first hunting knife and hatchet when he was six, and saved enough money to buy his first axe when he was seven. He was driving tractors by age eleven, and running a chain saw by age fifteen. He spent his time in the woods and helping his dad fix up that old farm. Money was tight, and his dad was frugal, teaching Don some very good lessons by instruction and example. Don learned to take care of what he had, to fix what was broken, and not to fix what wasn't. Don also learned to modify things to make them work better or better suit his needs. Don's father also instilled a set of values, Work hard, be honest, say what you mean and mean what you say, do what you say you are going to do, and treat everyone fairly.
Don worked as a carpenter all through high school, and went on to serve eight years in the Air Force Civil Engineers. He opened his own contracting business in 1980, working nights and weekends. The business went full time in 1984 when he was discharged from the service. His business is still going strong and Don's son Richard now spends summers working with his dad.
In 1987 Don found a new love, the wood canoe. Being a hunter, fisherman, and a trapper, there had always been a canoe around, until then, aluminum. What he really adored and longed for was a wood canoe. He took the plunge and built a 20' stripper, and has never looked back. He went on to repairing friends canoes, buying and restoring an old Peterborough, to finally building his own wood canvas canoe with all the accessories.
Don combines knowledge learned in the Maine Woods and the Upper Peninsula of Michigan, with his love of wood and his willingness to modify everything and anything to fit his needs, to create canoes and products that are truly useful to the wilderness traveler.